Journal nº2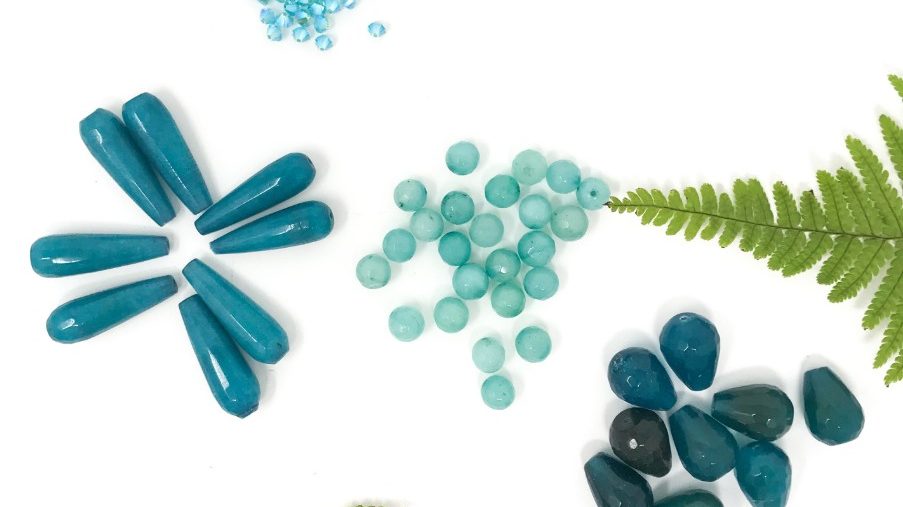 By Kay Lyngm • the 20 October 2019
Semi-Precious Stones
I use a wide variety of semi-precious stones in my collections which are sourced from all over the world. I frequently get asked questions from customers about the stones, their properties and where they come from.
To start with, semi-precious stones is a very broad categorization which in its simplest terms means that a stone has mineral qualities and can be cut to make jewellery. The following are some of the most popular gemstones that I use and a little background on each of them.
Agate
Bright coloured agates have won the minds of people from across the world. This ancient gemstone has been used since prehistoric ages. Its appearance is so overwhelming that people continue to use it in various forms of jewellery. Each of these gems is unique and you will never find two agates to share the same look.
Jade
Jade refers to an ornamental mineral, mostly known for its green varieties. Jade symbolises goodness, beauty and purity. Also known as Jadeite, it can be found in a wide range of colours including green, yellow, orange, grey, blue and purple.
The bright and intense colours of Jade is the reason I use it in so many of my ranges. Easily cut, faceted Jade will catch and reflect light to create an eye-catching piece.
Labradorite
An old legend tells the tale that labradorite gems are bits of frozen fire from Aurora Borealis that have fallen down to the earth. It's not hard to believe when you see the mysterious movement of colours inside this beautiful gemstone.
Labradorite is a member of the Feldspar family and is treasured for its remarkable play of colour. The stone, usually grey-green, dark grey, black or greyish-white has iridescent flashes of peacock blue, gold, pale green, or coppery red.
I love working with this stone to create elegant occasion pieces set off with Exquisite Crystals but also more neutral pieces casual enough for everyday wear.
Quartz
Quartz is one of the most common and varied minerals on earth, and its abundant colours produce many gemstone types. I love to work with amethyst, citrine, rose quartz and smoky quartz. Agate is also a variety of quartz. Amethyst and Citrine are the most popular and valuable gem varieties of Quartz, but other forms also make important gemstones. Pure Quartz, which is also known as Rock Crystal, is colourless.
Regalite
Regalite is a stone of stability. It helps create strength within your body, mind and soul as well as your physical life. It helps bring about clarity, compassion, inner peace and love.
Working with natural gemstones means they vary in colour and size, making each piece unique. Regalite can be seen in many of my K Kajoux ranges and the colour used varies from deep pinks, oranges, reds, blues and purple. It is a unique stone with a stunning marble effect which brings lots of veins of colour to the surface.
Freshwater Pearls
Stunning and lustrous, freshwater pearls offer unique shapes and a wide range of colours. Simple and elegant, freshwater pearls are an organic material produced by freshwater mussels. As pearls are natural no two pearls are the same making each handmade piece unique. Freshwater pearls have a very thick nacre layer which gives them a beautiful lustre and shine.
There is something so timeless and elegant about pearls that I would consider them a staple piece when it comes to accessories. Pearls can be worn anywhere – dress up a casual look, create a demure look for work or glam it up for a night on the town.
Rose Quartz
Rose Quartz is known for its neutral blushing hue and is often referred to as the stone of universal love. This light pink stone, which is part of the mineral quartz family, is a firm favourite in my ranges, and it is easy to see why. Versatile and gentle, it's colour can vary from a light to medium blush pink.
While this stone is popular in jewellery making, it is also commonly used in meditation and healing. This delicate pink stone attracts the romantic within all of us.
Kay x