K Kajoux Jewels (pronounced K- Ka- Jeu) is an independent Irish owned handmade jewellery company where all the pieces are designed and created by hand in Co Kilkenny using semi- precious stones, Swarovski crystals and Freshwater pearls.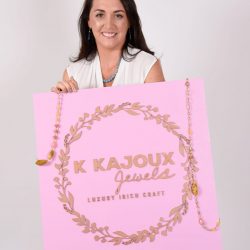 Each piece is designed by Kay Lyng in her studio in the hills of Clomantagh, Co. Kilkenny. The collections fuse the vibrant colour & raw beauty of semi- precious stones with the amazing colour innovation from Swarovksi Crystals. I am constantly inspired by the beautiful materials that we use, the amazing luminosity of gemstones, constant invention of Swarovski and timeless elegance of freshwater pearls.
K Kajoux all started a few years ago with an impromptu visit to a bead shop near St Georges Arcade in Dublin after which I made a very unique necklace that my friends in work asked me to make for them.  Some of my very early designs are still available today like the ever popular Bindi Necklace and Bracelet.
To build my business I sold my designs at craft fairs around the country for a few years before I had the opportunity to have K Kajoux stocked in the fantastic Kilkenny Design Centre and more brilliant stockists followed from there. You can check out the most up to date stockist listing here: Where to Buy
K Kajoux Jewels is registered with the Design & Craft Council of Ireland.